So you've decided you want to grow microgreens and you want to purchase a growing kit so you can dive straight in. This is an excellent way to get kick-started. There are numerous options out there and we know it can difficult to know where to start. Don't worry! We are here to help you. We've have done the research and tried and succeeded ourselves. We have rounded up our top favorite kits so you can start your microgreens garden with confidence and ease.
Choosing the best microgreens growing kit for yourself will depend on what you intend to grow, how much you want to grow, and where you want to grow. With that taken into consideration, this is not a ranked list, but simply a compilation of microgreen growing kits we recommend. 
To select the ideal kit for your growing project, read on below as we break down the pros (and maybe a few cons) of these great microgreens growing kits.
1. MiniEco Microgreens Growing Kit
This MiniEco Microgreens Growing Kit is an ideal kit to give as a gift or for anyone wanting to start small. You'll get an all in one package including Watercress, Garden Cress and Leafy Radish. The kit is ideal for anyone wanting to try growing their own microgreens.
The pots easily fit on windowsills or countertops and it comes with everything included that you need to start your first microgreens crop. The pots are small but that is weighed up against you getting two packs of each type of seeds.
The MiniEco Microgreens Growing Kit is available for purchase on Amazon.
2. Chef'N Microgreen Growing Kit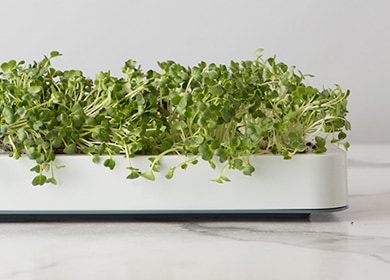 The Chef'N Microgreen Growing Kit is an ideal choice for anyone who is new to growing microgreens and wants a nice looking kit! The Chef'N grower only comes in one size and one color, which for some might be a downside but some novice growers might prefer the sleek, minimalistic design. The tray is lightweight plastic and could be perfect for home or even the office.
The kit easily fits on windowsills or countertops and it comes with everything included that you need to start your first microgreens crop. The tray comes with a growing medium to help get your little greens sprouting right away as well as a pack of seeds from the Seattle Seed Company to start your first harvest. 
The seed kit includes alfalfa and radish, two easy crops for those new to growing microgreens. Seed refills for subsequent harvests can be ordered from the Seattle Seed Company.
For those who want a no-fuss start-up garden, the Chef'N Microgreen Growing Kit is literally a "just add water" kit and you're ready to grow. It's available for purchase here.
3. Back to the Roots Water Garden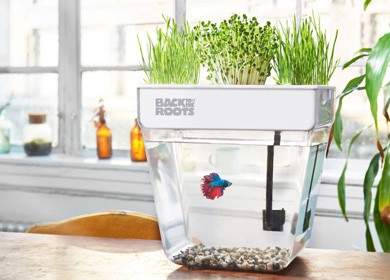 Looking to combine your garden with a fish tank aquarium! Yes, you heard it right. Perhaps you're new to growing microgreens or maybe you've harvested hundreds of microgreen crops, sometimes it is nice to have a garden that adds a little novelty to your crop. We have not tried this one ourselves but reviews are great and we find it an amusing alternative to the more traditional growing kits!
The Back to the Roots Water Garden is actually a self-cleaning fish tank that serves as a miniature hydroponic ecosystem. The fish within the tank fertilizes the crop of microgreens growing on the top of the tank while the plants keep the water clean for the fish. 
The kit comes with grow stones as the growing medium and a mixture of organic microgreen seeds to serve as your starter crop. In addition to the microgreen portion of the kit, the kit also comes with D-Klor and Zym-Bac, which removes the chlorine from the fish tank water (so your fish can live happily) and enrich the water with nutrients. 
While the kit doesn't come with a fish included, it does provide fish food and a coupon to purchase a fish. Keep in mind that this growing kit will need a power source for the water to be pumped to the microgreens and circulated through the tank. That means you will need to make sure your planned crop location is near enough to an electrical outlet so the tank can be plugged in.
This kit is easy to set up and can be a unique gift for any friends wanting to start growing microgreens or an excellent way to get children excited about gardening. It is available for purchase here at Amazon.
4. Microgreen Pros Organic Microgreens Growing Kit
The microgreens growing kit from Microgreen Pros sets itself apart in several ways, but most notably is probably the aesthetically pleasing wooden planter. We love the feeling of bringing a garden into the house!
Most microgreen kits come with plastic trays, which aren't always the most attractive addition to the home, so the Microgreen Pros kit gets around this by placing a waterproof plastic liner inside a lovely wooden planter. Now you can put your microgreen crop on display in a delightful little raised wooden bed.
The kit also comes with two sets of fiber soil wafers and enough seeds for two entire crops of microgreens. This is an advantage over most kits, which only provide enough starting material for one crop. The kit comes with a packet of seeds for sunflower microgreens, one of the most popular microgreens crops, as well as a salad set of seeds including broccoli, kale, kohlrabi, arugula, and red acre cabbage seeds.
The planter and waterproof liner can be reused again and again and the company offers convenient refill kits with fresh soil and seeds in the perfect portion for the planter. Other seeds offered by the company include wheatgrass, pea, and radish microgreens.
The company also offers a 100% satisfaction guarantee, so if the microgreens fail to grow or you are unsatisfied for any reason, the company will either replace the kit at no cost or provide a full refund. The Microgreen Pros Organic Microgreens Growing Kit is available for purchase here.
5. The Grow 'n Serve Microgreen Kit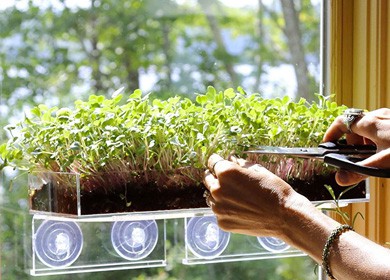 The Grow 'n Serve is another no-nonsense starter kit for anyone looking to become a microgreens enthusiast. The kit comes with a 15" by 6" BPA free acrylic multi-use planter tray, and they've made them so that they perfectly can sit on a windowsill or sunny countertop. Since it is made of acrylic, the tray is much sturdier than flimsy plastic trays, and the clear acrylic lets you see your little sprouts taking root in the soil and thriving.
In addition to the tray, the Grow 'n Serve Microgreen Kit comes with their unique blend of fiber soil, which comes as a packed disc which you hydrate and spread to fill the tray. Scatter the provided seeds on top, mist with water, and in ten days you'll have a harvestable microgreens crop. The kit even includes a 150ml mister bottle to help you water the greens each day.
The kit also comes with mixed radish microgreen seeds, but the company states that the tray can be used to easily plant not only other microgreens but also succulents, herbs, and fairy gardens.
The company also sells a suction cup shelf which can be combined with the microgreen kit to give the ability to suction the tray to your window, freeing up your counter space or leaving your windowsill free for other plants. Such a great idea!
The Grow 'n Serve Microgreen Kit can be purchased here.
6. LeJoy Garden Wheatgrass Grower with Lid Sprouting Kit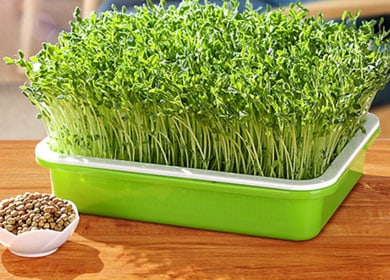 This microgreens kit boasts a fairly large capacity growing tray (about 13" by 10" by 5") but it also makes our list due to its versatility. Though the aesthetics may not be as appealing as some of the other kits, this one serves both as a seed sprouter and storage tray and it can be used to sprout multiple different types of seeds.
The tray is BPA free and the lid of the tray provides an ideal growing environment for sprouting seeds by helping control temperature and humidity. This allows for faster-growing rates and more successful crop yields. A secondary tray is provided with a grid of holes to help promote roots to take hold more easily and also provide ventilation to help prevent root rotting and disease.
This kit is designed for medium to large seeds, such sunflower seeds, corn or peas. Smaller seeds may not work as well because they will fall through the holes in the tray. However, for anyone struggling with wheatgrass crops that easily can mold, this kit can be a real game-changer due to the ventilation provided by the plastic grid.
This kit is intended to successfully grow microgreens without any soil, so the kit does not include any. Also, if you're an absolute beginner, be advised that while this kit does come with instructions, the directions have been translated to English and there is a little bit lost in the translation which may result in confusion for a novice gardener.
If you would like to purchase the LeJoy Garden Wheatgrass Grower with Lid Sprouting Kit, it is available on Amazon here.
7. Window Garden Pop-Up Indoor Microgreen Seed Starter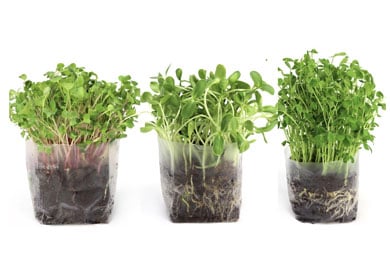 To the aspiring microgreen gardener who wants a no-fuss, easy starting set up kit, this kit by Window Garden is a great find. This kit is small, only 4" x 4", so it can fit into even the tiniest of apartments. Rather than using a plastic tray, this kit comes with three one quart pop-up fiber soil bags. Simply add water and the soil will expand to fill the bag and be freestanding, no separate tray or pot required.
The standard kit comes with non-GMO radish seeds, pea shoot seeds, and sunflower seeds, conveniently giving you a seed crop for each fiber soil bag. The bags are leak-proof, so they are safe to set nearly anywhere. If you want to free up space, the company also separately sells a suction cup window shelf for placing your microgreens in the sun and using your space more efficiently.
The kit has many different starting seed options, including a very popular option of growing cat grass, which can be a great choice for gardeners who want to let their feline companions enjoy the benefits of an indoor garden, as well. 
While the popup bags are convenient and great for gardeners with very limited space, they, unfortunately, aren't meant for multiple uses. So this kit is best for those who maybe only want a few harvests or to give as gifts to encourage friends and family to consider starting their own microgreens. This fun pop-up microgreen starter kit is available for purchase here. 
8. Grow Book Countertop Microgreens Garden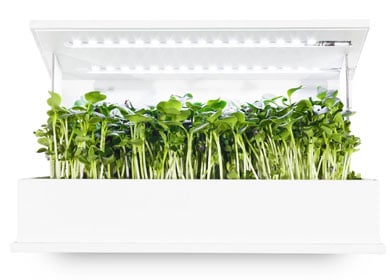 If you are looking for a kit that includes it all, the Grow Book Countertop Microgreens Garden is a great option for you. The kit comes with 32 LED lights built into the lid to help encourage the sprouts to grow, even in a windowless room. 
The kit is relatively simple to set up, taking only a few minutes to assemble. In addition to the tray and lighted lid, the kit comes with three starting soil pellets, seeds, and a helpful Grow Book that offers tips and instructions for growing your best microgreen harvest.
One of the best things about the Grow Book Countertop Microgreens Garden is the ability to choose different seeds to start within the kit. The starting selection of seeds can be selected from a few varieties. 
The "Salad Edition" features purple radish seeds, amaranth seeds, and arugula seeds. A "Cruciferous Edition" comes with organic broccoli, red cabbage, and purple kohlrabi seeds. The "Spicy Edition" includes organic mustard, pepper cress, and white radish seeds. The "Learn & Grow Children's Edition" comes with only broccoli seeds, but also includes a teaching guide and manual to help make an educational experience.
The Grow Book Countertop Microgreens Garden is available for purchase here.
9. Kitchen Crop VKP1200 Deluxe Kitchen Seed Sprouter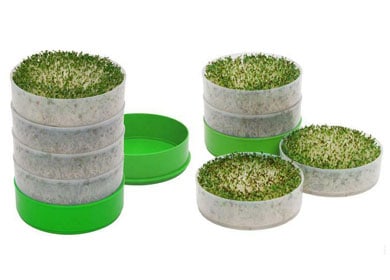 The Kitchen Crop VKP1200 Deluxe Kitchen Seed Sprouter is another soil-free microgreen growing kit and it is perfect for anyone looking to grow a large crop or multiple different crops at once. It's stackable, circular design allows you to grow a lot in a relatively small space.
The kit fits within a 6" x 6" area and is 8.5" tall, and features four stackable BPA free plastic growing trays. Each tray has a slotted bottom that allows water to flow easily from tray to tray, permitting the proper amount of moisture for sprouting and eliminating the need for soil. If you want to grow more than four trays' worth of microgreens, the Deluxe Kitchen Crop Sprouter can stack up to ten trays per base unit.
You systematically rotate the trays so each tray gets the proper amount of hydration. The kit comes with easy to follow instructions, so even the novice gardener has a great chance of success. While this growing kit may not be as aesthetically appealing as other models (it basically resembles a stack of Tupperware on your countertop,) it really provides great harvests in an easy to clean, simple to use kit.
The kit comes with organic alfalfa and broccoli seeds, but it is ready to grow any type of microgreens you wish to try. If you'd like to purchase the Kitchen Crop VKP1200 Deluxe Kitchen Seed Sprouter, it's available here.
10. Wonder Soil Sprout House Microgreen Growing Kit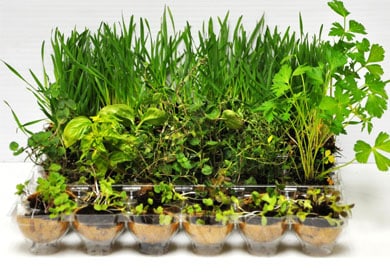 For the price, the Wonder Soil Sprout House Microgreen Growing Kit is an excellent value and perfect for anyone looking to start a variety of microgreens. The sprout house is reusable, meaning that this kit will be able to keep you harvesting microgreens for years to come.
It comes with 12 Wonder Soil coco coir fiber seed starting cups, which act as a great growing medium to help your sprouts get started right. These cups are placed in the growing house, and then two wafers of Wonder Soil (12 total are provided) are placed in each cup. Add a little water, and the wafers will transform into fluffy, nutrient-rich soil ready for seeds.
The kit essentially looks like a plastic egg carton, with a dozen small, separate cups for the plants and a plastic, domed lid that fits over the top to help control temperature and moisture. What it lacks in looks, it makes up for in its simple and effective growing design.
Since the Wonder Soil comes with compost pre-mixed into it, you have the assurance that the soil will have a great amount of starting nutrients. However, be aware these compost-rich formulations can be slightly more prone to mold and mildew if you aren't careful.
It is important to note this kit does not come with seeds, so you will need to provide your own. The Wonder Soil Sprout House Microgreen Growing Kit is available for purchase here.
11. TotalGreen Holland's Microgreens Trio Terracotta Grow Kit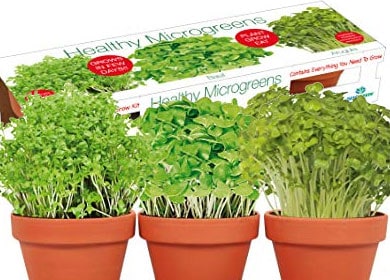 This kit by TotalGreen Holland is another great option for anyone looking to start a microgreen garden on a budget. We love this one as well for its design! This kit is especially appealing because it forgoes the standard plastic planting trays in favor of three terracotta pots. The pots help this kit look more pleasing in the home and allow it to make for a great gift. Each of the pots has a diameter of 3.5" at the top and is 3" tall, making them perfect for a windowsill.
In addition to the terracotta pots, the kit includes coco peat pellets with nutrients already mixed in, as well as three non-genetically modified seed packets. The seeds included are garden cress, basil cress, and arugula cress. The instructions for using the kit are straightforward and included with the purchase.
The TotalGreen Holland Microgreens Trio Terracotta Grow Kit is excellent for novice gardeners, offering a great way to learn the basics of gardening without having to make a hefty investment of time or money. As long as you have a window to serve as a light source, you are ready to get growing with this fun start-up kit.
This kit is available for purchase on Amazon, and also has a purchase option for growing herbs as a starter.
12. Hamama Microgreen Starter Kit
The Hamama Microgreen Starter Kit is one of our favorites, and it easily earns a place on this compilation list of top microgreen growing kits. The starter kit includes a reusable plastic grow tray, and Hamama has taken the guesswork out of growing microgreens by providing Seed Quilts to use with the tray. 
The Seed Quilts are basically sheets of pre-seeded soil, so all you have to do is place the quilt in the tray and add water. This means there is no mess from loose soil or spilled seeds. Once you have added the water and started the Seed Quilt, you won't need to water it again!
The kits come with three separate Seed Quilts, meaning the initial kit will give you three harvests. You can choose to receive all the same types of seeds or have a different crop on each quilt. Options for the Seed Quilts include broccoli, cabbage, kale, daikon radishes, a salad mix, wheatgrass, clover, fenugreek, wasabi mustard, or a zesty mix.
While one disadvantage to the Hamama kit is that you will need to buy a new Seed Quilt for every crop, the company makes it easy by allowing you to have the Seed Quilts auto-delivered at a fixed cost every month. This is a great option for anyone wanting to grow microgreens but wants very low maintenance, low fuss system.
We especially love the optional bamboo frame you can purchase to put the starter tray in, giving the garden a chic appearance perfect for any home. If you are interested in buying a Hamama Microgreens Starter Kit for yourself, you can get one from Amazon here.
13. Mountain Valley Seed Co. Deluxe Microgreens Starter Kit
The Deluxe Microgreens Starter Kit from Mountain Valley Seed Co is great for those wanting options when it comes to starting a microgreen garden and isn't sure whether they want to start with a soil kit or a water only kit. 
This starter kit can support growing microgreens both hydroponically and in soil and comes with instructions to help gardeners pursuing either growing method.
This kit provides enough trays for you to grow five crops at once, but you can grow even more crops if you decide to section the trays and plant a variety of seeds at once. If you are wanting to try a hydroponic setup, the kit comes with ten hydroponic grow pads that fit into the trays and allow for easy microgreen growth without soil. These pads are enough for ten crops.
However, if you aren't sold on the hydroponics, the kit also comes with two five-quart bags of compostable soil. That's enough soil to grow six trays' worth of microgreens, so you are getting a lot more to start than some more inexpensive kits. If you decide to grow with both soil and hydroponic methods, this kit gives you enough supplies to grow sixteen crops right at the get-go.
Something handy that this kit includes that others do not have is a pH test strip kit. Microgreens can be very sensitive to the pH of your water, so this kit helps you determine if you need to adjust your watering source to provide your microgreens the ideal environment to encourage growth. The kit also comes with a spray bottle to allow for easy misting of the greens in their early growing stages.
Finally, this kit also comes with a wide assortment of seeds selected for both hydroponic growth methods and soil-based growing methods. The hydroponic mix comes with enough seeds for up to two dozen plantings and has a great selection of crops like purple radish and a basic salad mix. The soil-based seeds have enough provided for eight trays of crops, and include options like sunflower, dun pea, and buckwheat.
The Mountain Valley Seed Co. Deluxe Microgreens Starter Kit is available for purchase here.
14. Mountain Valley Seed Co. Mini Microgreens Growing Kits
If you aren't ready to spend over a hundred dollars on Mountain Valley Seed Co.'s Deluxe Microgreens Starter Kit, you might want to check out their much more budget-friendly option of the Mini Microgreens Growing Kit.
These kits are single-serve microgreen planters that are great for anyone just starting to grow microgreens or who want a very simple setup. The kit comes with a growing container that is 4.5" wide and 1.5" deep and a premeasured soil puck that just requires a little water to reconstitute. Each kit also comes with a mist bottle and a humidity lid to help achieve the ideal growing environment for your greens.
There is a selection of six different pre-measured organic seed packets that you can choose from, including sunflower, arugula, pea shoots, radish, mustard, and a salad mix. 
This kit can make a simple, easy gift, as well, or work as an educational demonstration for children. At less than $10, it makes for a great introduction into the world of growing your own microgreens. This kit is available from True Leaf Market. 
RELATED: The Best Way to Store Microgreens After Harvest
Summary
As you have learned, there are numerous alternatives to growing your own microgreens by kick-starting with a kit! Depending on what you want to grow, your budget and what aesthetics you are after, there is a kit for you. We started off with a smaller starter-kit allowing us to try five different seeds and it was such joy to see the successful results. Once you have started you will not want to stop. Try out what works for you under your circumstances. Whatever kit you'll go for, we are sure you will love it and have a great time micro growing!