When you start to grow microgreens, finding out where to buy seeds is one of the more common questions. Spending some time on research and buying from a trustworthy seed company can make a difference in the quality of your growth.
You can buy microgreen seeds through an array of online stores as well as in a majority of garden centers. Specialized online shops offer a wide variety of seeds in bulk. If you are searching for affordable smaller volumes, a garden center, or the larger online retail sellers is a great option. 
To help you with your search for the best seeds, we have created a list of suppliers that provide good quality seeds. Some of them offer a guarantee of healthy and successful growth. 
UPDATED FOR 2023!
Find a supplier
The list of suppliers is grouped by region. Most of them offer international shipping, but be conscious as that may be costly. Finding a local/regional supplier may save on delivery costs, and you will also support the local economy.
This list is based on a combination of our own experience with suppliers, feedback and information we got from our readers, and recommendations shared by growers in various forums.
We will continue to keep THIS LIST updated, and if you have any comments, please feel free to contact us.
What to consider when buying microgreen seeds?
When you are selecting the seeds you want to grow, there is more to think about than just the flavor and variety. There is a difference in seeds, and depending on the quality, the outcome in the growth will vary. 
You should buy seeds that ensure germination and purity, and to guarantee this, check the labels and look out for these things:
The seeds are not chemically treated. It means they have no seed treatment applied to their seed coat, such as pesticides or fungicides. To ensure you avoid this, you should buy organic seeds.  
The seeds are organic. It means that when the seed crop is growing in the field, being harvested and processed, it's not exposed to any prohibited chemicals. Seed growers must comply with organic regulations, and among other controls, they have to be grown without the use of synthetic fertilizers and pesticides. In the US, seeds must meet specific standards from the 

US Department of Agriculture

certification program before they can be labeled as organic. 
The seeds are Non-GMO. It means that the seeds are not genetically modified (

GMO stands for Genetically Modified Organism

). GMO seeds are bred in a laboratory and not in a garden through pollination. So they are not naturally developed.  
If you buy seeds that are organic, non-GMO, and not chemically treated, you have found a type that you can rely on that will give you healthy food. 
READ ALSO: How Long Do Microgreen Seeds Last?
Different types of retailers
You can buy your microgreens seeds from different types of retailers. You may want to do your shopping from the comfort of your home or visit a shop to see the product you want to buy. Depending on your needs, there are pros and cons for each option.
Garden Centers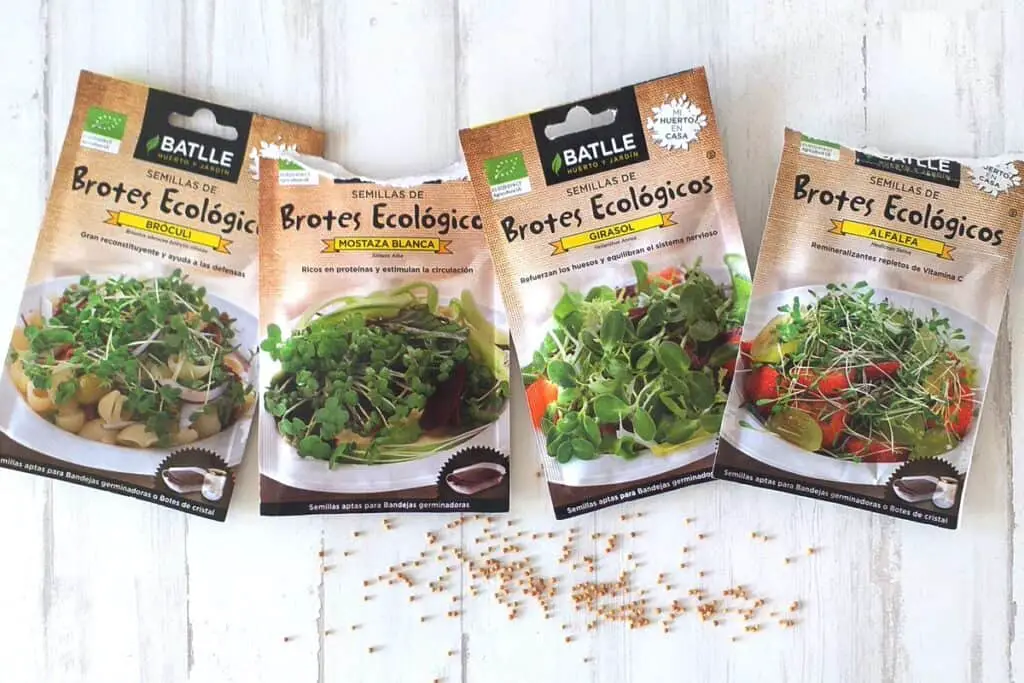 If you are new to microgreens, buying your seeds from a garden center is a great start. You can see the package and get a feel for what you want to grow. We did this and bought small packages of 1 oz / 15 grams per bag. This way, we could grow a few different microgreens without investing a lot of money.
In the long run, though, it's more expensive to buy the small packages, but as beginners, it may be a good way to find out if you like it and what microgreens you want to grow. 
A pack of microgreens seeds of 15 grams costs around 2-3 dollars and it's normally enough seeds to grow a full 10/20 tray. 
Specialized Online shops
If you want to grow larger volumes or more frequently, it's more cost beneficial to buy in bulk. Online shops specialized in selling microgreen seeds are a great choice because they know their product and many provide a quality guarantee of the seeds. 
We are growing all year round, so we buy in packs with 250-500 grams. It means that we can grow around 10-30 trays of microgreens depending on the seed type. 
Most seed suppliers sell in bulk, ranging from 1 oz to 25 lbs.
Online Retail Sellers
You can also buy microgreens from large online retail sellers such as Amazon, eBay, Walmart, and Wholefood.
Amazon is the world's largest online shop that sells more or less everything this world has to offer, microgreen seeds are no exception. They have a great selection of seeds to chose from but offer more varieties in smaller volumes. Amazon has often competitive prices, and they are generally quick to deliver. They are offering a seamless process with tracking and guarantees if the product is not to your satisfaction. 
eBay has as well a great selection of microgreens seeds to chose from. The great thing with eBay is that you can read the evaluation of the seller. As a buyer, you are asked to provide feedback, and this helps not only to see the percentage of positive feedback but how much they have sold. A larger volume of sales with a high feedback rate is a good indication of a trustworthy seller. 
Walmart being one of the most famous brands in the US is also offering a great selection of microgreen seeds. They act as a reseller for some of the top brands in gardening. 
Wholefood is another good option for buying affordable seeds. They have a wide range of different seeds, both in smaller packs and in bulk sizes. 
Can you grow microgreens using regular garden seeds?
Yes, you can grow microgreens from regular garden seeds, but we recommend using those that are labeled microgreens or sprouts. 
There is no difference between sprouting seeds and microgreen seeds, it only refers to the method used for growing. These seeds are most often organically produced to prevent any contact with pesticides. Sprouting seeds are only grown in water, and once the sprouts have germinated, you eat the entire plant. Microgreens, on the other hand, are grown in mediums like coconut coir, soil, or hydroponically. They are harvested after the first true leaves appear.
The difference between using regular garden seeds and microgreens/sprouting seeds is that the regular ones are designed to grow into full plants, and you use a low density. They are more often treated with pesticides to protect them from weeds, fungi, or insects. When you plant a regular garden vegetable, you take one or a few seeds and place them in the soil with considerable space.
When growing microgreens, it is the opposite. You grow with high density using many small seeds sprinkled over a shallow area. We are talking about 20 seeds per square inch or even higher, and we place them on top of the soil. Any pesticides on the seeds will be concentrated in the growing tray, and when watering, it can end up on the stems and leaves. Therefore microgreens seeds are sold organic and untreated. 
If you are interested to learn more, we have written an article about the difference between regular and microgreen seeds – Are Microgreen Seeds Different From Regular Seeds? 
---
Microgreen Seed Suppliers by Region
As said in the top, we will continue to update this list based on our own experience and feedback we get from our readers. Feel free to drop us a mail and share how and where you get your microgreen seeds.
North America
Canada
US
Europe
Germany
Italy
Poland
United Kingdom
Spain
| Company | Varieties | Types | Shipping |
| --- | --- | --- | --- |
| InstaGreen | 90+ | Organic, Non-GMO | EU, International |
Africa
South Africa
Asia
India
Summary
We hope that you have been able to find a supplier who can provide you with qualitative microgreen seeds. The quality of your growth is so important and equally rewarding when it gives you healthy microgreens! 
We know that as you want to grow microgreens, finding a reliable supplier of seeds is one of the main challenges.
As we started our journey, we went around our city and visited several garden centers trying to find seeds made for microgreens. In our community, there was not a great selection to chose from. For this reason, we started to research online options and spoke to other growers on their recommendations for suppliers. 
The list we have provided is the result of this research, and we hope that it can help you to find a great supplier near you. As you buy your next microgreen seeds, ensure that you look out for these three things: They are organic, Non-GMO, and Not chemically treated. Then you should be good to go.
Happy growing!